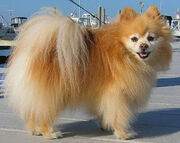 Breed Description
Edit
The Pomeranians long double coat requires brushing at least once weekly. It is important to lift and part the top coat and brush the cottony undercoat as well. This will reduce shedding. Frequent brushing can damage the coat. Their coat color variety includes orange, red, white, cream, blue, black, brown, sable, black-and-tan, tri-colored or splashed. It's coat is very fluffy!
---
Overview
Edit
The Pomeranian is lively and eager to learn. They get along well with other household pets if given a slow and proper introduction. They make wonderful companions for families with older, well-behaved children and the elderly.
---
Character
Edit
The Pomeranian is a compact, active toy breed. They are intelligent, extremely loyal to their family, and loving. They are eager to please, gentle, and affectionate. They also exhibit an inquisitive expression and curiosity.
---
Temperament
Edit
The Pomeranian is confident, commanding, and outgoing. Due to the Pomeranians small stature they are not recommended for homes with small children as they may become temperamental. They make excellent guard dogs and will sound a bark when they sense danger.
---
In addition to grooming it is important for Pomeranians to receive excellent dental care. They are prone to tooth loss, so regular cleaning is a must. Dry food is recommended to aid in keeping teeth and gums healthy.
---
Training
Edit
Pomeranians respond best to firm commands and are quick to learn. They are easily trained in obedience. Their barking must be controlled or they will do so incessantly. They may be difficult in housebreaking, but with consistency and praise do very well either going outside or in a litter box.
---
Activity
Edit
The Pomeranian requires short walks and play time with other pets and family. They have the capability to learn tricks if done with patience and time. They may become bored if they are not given enough to do. They are excellent for apartment living and homes with small yards.
---
Ownership
Edit
If you are looking for Pomeranian puppies for sale from reputable Pomeranian breeders or to adopt a Pomeranian from a Pomeranian rescue, then make sure you understand as much about the dog breeds you are interested in as you can. Every puppy breed is different. Begin your research by reading the breed information about the Pomeranian puppy above. Search our dog breeds section to find Pomeranian puppies, dogs and puppies that make great pets.
Ad blocker interference detected!
Wikia is a free-to-use site that makes money from advertising. We have a modified experience for viewers using ad blockers

Wikia is not accessible if you've made further modifications. Remove the custom ad blocker rule(s) and the page will load as expected.