Dogs and Cats Wiki Newsletter Issue #5 September 2010
Edit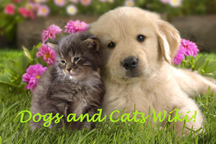 Dogs and Cats Wiki News
Edit
The wiki is being edited again.
Two articles gained featured status (Grade A) this and the previous month:
The Collaboration of September 2010, is to start the articles below:
New pages
Adding information to pages with not as much info like Maine Coon.
Here are not shown all, but only the active users of Dogs and Cats Wiki.

Other Users:
Newsletter
Edit
This is the 5th issue of Dogs and Cats Wiki newsletter. This page helps you keep informed about what is happening on this wikia. I hope there soon will be more users and the project will be continued.
Ad blocker interference detected!
Wikia is a free-to-use site that makes money from advertising. We have a modified experience for viewers using ad blockers

Wikia is not accessible if you've made further modifications. Remove the custom ad blocker rule(s) and the page will load as expected.